Photographers love to travel
Travel is often a major influence with photography, be it landscapes in the Lake District, cityscapes in the heart of Dubai or that safari adventure in the Masai Mara. For many these opportunities take lots of planning and a severe investment in both time and money to achieve.
Keeping it local
Fortunately there are many photographic locations that can be found closer to home. Canals, woodlands and common ground to name a few. I consider myself lucky to have such beauty so close to home with many different opportunities more or less on my doorstep. One of my favourite spots close to home is Warrens Hall Nature Reserve.
By car the nature reserve is a short drive, around 10-15 minutes from my house. It's the type of place you could go to several times a year and come back with different images representing the local landscape and surroundings each time. The Dudley No. 2 Canal runs through the centre of the reserve and this is where my image of the day was captured. I have called the image "Reflections" featuring the Toll End Works canal bridge.
Image of the day – Reflections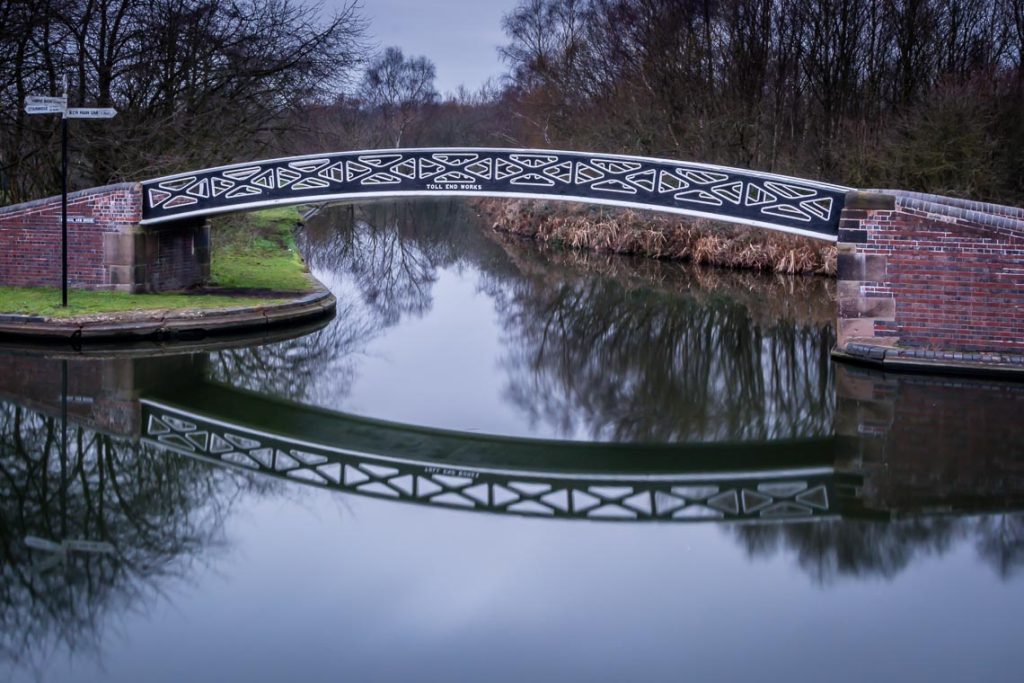 Story Behind The Shot
As with most of my images there is a story behind the shot. It's Saturday morning, 6:30am and I am lying in bed wide awake. Thinking about where I can go at short notice. I recall many locations in my mind thinking about compositional ideas and creative shots. I hastily decide upon a sunrise shot at Cobbs Engine House. Sunrise is at 8:26 this morning according to the weather forecast app on my phone, I have plenty of time to get washed and dressed grab my gear and drive the 10-15 minutes to Warrens Hall Nature Reserve on the outskirts of Netherton, Dudley. My BBC weather app is showing heavy cloud but this doesn't deter me. I thought to myself the cloud will vanish to reveal a gorgeous sunrise. I arrive at the nature reserve car park around 7:30am, its pitch black and I have forgot my torch. Sitting in my car in anticipation, light levels gradually start to increase and a very slight amount of magenta is observed on the distant horizon. I take the short walk, around 5 minutes to my chosen subject.
Cobbs Engine House
On reaching Cobbs Engine House formally known as Windmill Hill Pumping Station it is pretty evident it is going to be a dull day. The magenta has disappears behind heavy cloud and I come to the conclusion that sunrise today is not going to be. I wait around in anticipation until just after 8:30 in the hope of a break in the cloud to light up the sky. Nothing happens, I decide to head back towards my car. I have to pass three cast iron bridges on the way which are all of similar design and span over the canal in different directions (There is a photo of this a bit further down). The Toll End bridge draws my attention. I am presented with a gorgeous reflection on the surface of the water. The Toll End Works bridge spans the Boshboil Arm of the Dudley canal. Many photographs exist of this bridge as it is popular amongst local photographers with most taking at least one image during their visit.
How I got the Shot
The Toll End Bridge seen in the below photo is the bridge on the far left hand side of the image. I setup my old dilapidated tripod on the canal bridge to the far right of the frame and composed my image using live view. I found a composition I liked at 21mm on my Nikon D7100 with 18-105 kit lens. After taking a few test shots to check light levels and how the water looked I decided I wanted to shoot a long exposure to help capture the reflection. I set my camera to manual mode with the ISO set to 400. With my aperture set at f/16 I used the cameras light meter to give me a shutter speed of 15 seconds. I shot four frames for good measure which I could review on a bigger screen when I returned home.
History of Warrens Hall Nature Reserve
Warrens Hall nature reserve lies on the border of Sandwell and Dudley and has 17 hectares of grasslands, hedgerows, pools, streams and canals. The reserve offers superb views towards the Clent Hills and Shropshire. Originally the reserve was a hive of industrial activity home to factories, boat yards, coal mines, blast furnaces, iron works, timber yards, brick kilns and saw mills which occupied the open spaces. At the centre of the reserve stands Cobbs engine house, officially know as Windmill End Pumping station, which was used to remove water from local mines. The shaft which has now been capped was 525 feet deep. The pumping station removed over 1,600,000 litres of water from local mines each day discharging the water into the nearby canal.
Images from the day
Feedback
Feel free to drop a comment below and tell me about your experiences and images at Warrens Hall or other similar locations.