I have recently been given the opportunity to create one of Saal Digital's Professional Line Photo Books. Saal Digital are a professional printing company based in Germany. They specialise in photo books, fine art prints, greeting cards, calendars, wall decor and photo gifts. The professional line photo book is Saal's premium photo book. The professional line photo book is marketed as hand made and having a certain WOW factor. Saal gave me with a £100 voucher so I could make the photo book and see for myself how good Saal photo books really are. Read on to find out how I designed the book and help you decide if you should make one too!
Just to let you know… This post contains affiliate links, including Amazon Associates links, and I may receive a small commission if you click on one. This will be at no additional cost to you.
Designing My Photo Book
The fist step in the process of designing my book was to download the Saal photo book software and install it onto my computer. The design software is available for both Mac and PC so it is just a case of selecting the one to suits your computers operating system. The installation process is straight forward and within a few minutes I was ready to start creating my book.
Saal's bespoke software has a range of design options to choose from however I decided to create a 30cm x 21cm Professional Line photo book with acrylic front cover and black leather rear cover. For a premium feel I chose to upgrade the paper type to "high end print matte". I also added 44 pages to my book to make the most of the £100 voucher value.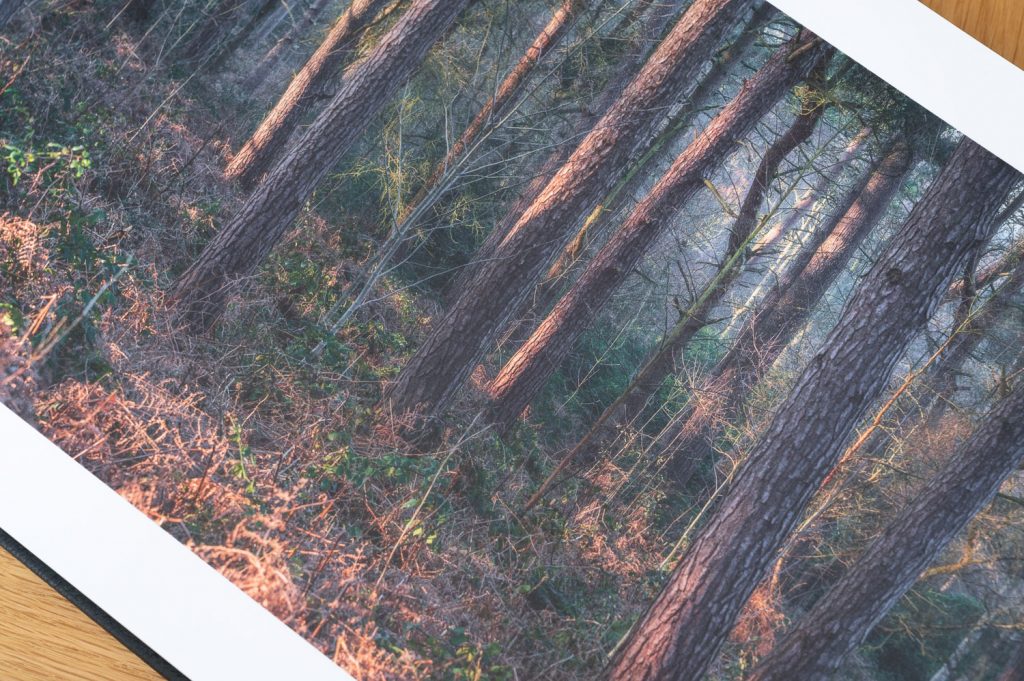 Preparing Images
It can be quite difficult to obtain accurate colour and tone representation when printing. Saal has an in depth guide on their website dedicated to colour management. There are also guides on how to use ICC Profiles and soft proofing images before printing. One thing to note is professional colour management on a high end level is not possible without a calibrated monitor. There are several calibration devices on the market including the highly rated Datacolor SpyderX Pro which is designed for serious Photographers and Designers.
Post Processing
Saal's design software does include a built in image enhancement function. The tool automatically adjusts an images brightness and contrast etc. Saal do not recommended the enhancement tool for anyone who has already post processed their images or for any images that are part of a collage. I had already post processed my images in Lightroom to achieve the look and feel that I wanted so I did not use the enhancement function. I did install Saal's ICC profiles for the paper I had chosen and adjusted my images further using soft proofing tools before exporting the images from my Lightroom catalog. (Soft proofing allows you to simulate on your screen how an image will print on the given paper type)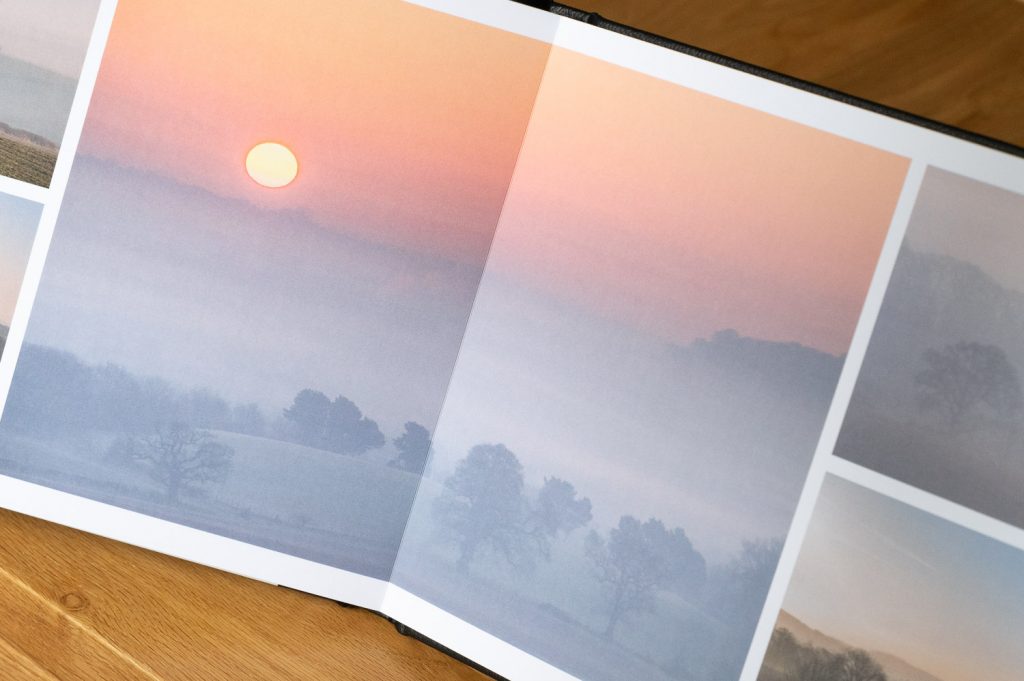 Exporting Images
Before you export images from your post processing software my advise is to check for dust spots. There is nothing worse than spending a considerable amount of money on a print to find a huge dust spot! Remember, dust spots are not always immediately noticeable on a small screen so make sure you zoom in to at least 100% as you review an image. Its also very important to ensure you export your photographs full size and at maximum Quality!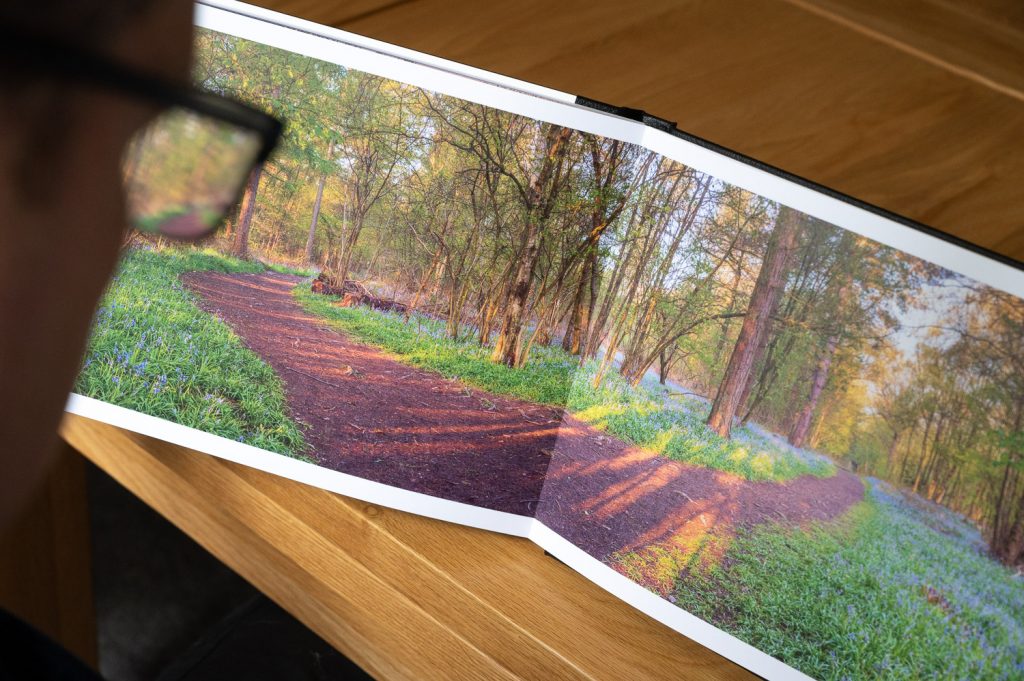 Saal's Design Software
As far as the book layout goes Saal's design software is intuitive and fairly quick and easy to learn. At first I found things to be a bit hit and miss. However as with most things, the more you do it the easier it becomes.
There are several pre made page layouts to choose from and also an option to use Saal's auto layout function. The auto layout function allows you to select a pre defined page template and drag images into the books layout. The auto layout function is turned on and off on a per page bases. This allows you the option to be creative and make something unique. I found the best option for me was to use a combination of automatic and manual page layouts.
I decided not to print any images on the inside covers of my Saal photo book. I also only printed text on the second page as I wanted to write an introduction to the book. Saal's design software lets you do pretty much anything you can think of in terms of creating a good design and provides flexibility to really create something unique. One thing to note is If you do leave empty pages you will get a warning before ordering the book stating you have spaces unfilled. For inspiration there are several assets on Saal's website including various how to guides and video tutorials.
Placing the order
Having checked my completed design for spelling mistakes and conducting a final check for dust spots it was time to place the order. I ordered my book from within the design software which is a nice touch. The checkout process is very easy to follow and my order complete within a matter of minutes. The longest part of placing the order is uploading the images to Saal's systems. The upload time will be dependant on your internet connection speed and the size of the images being uploaded. The whole process is automated and seamless meaning there is little to no chance of getting it wrong. Almost immediately after the upload completed I received an email from Saal confirming my order along with an estimated delivery date.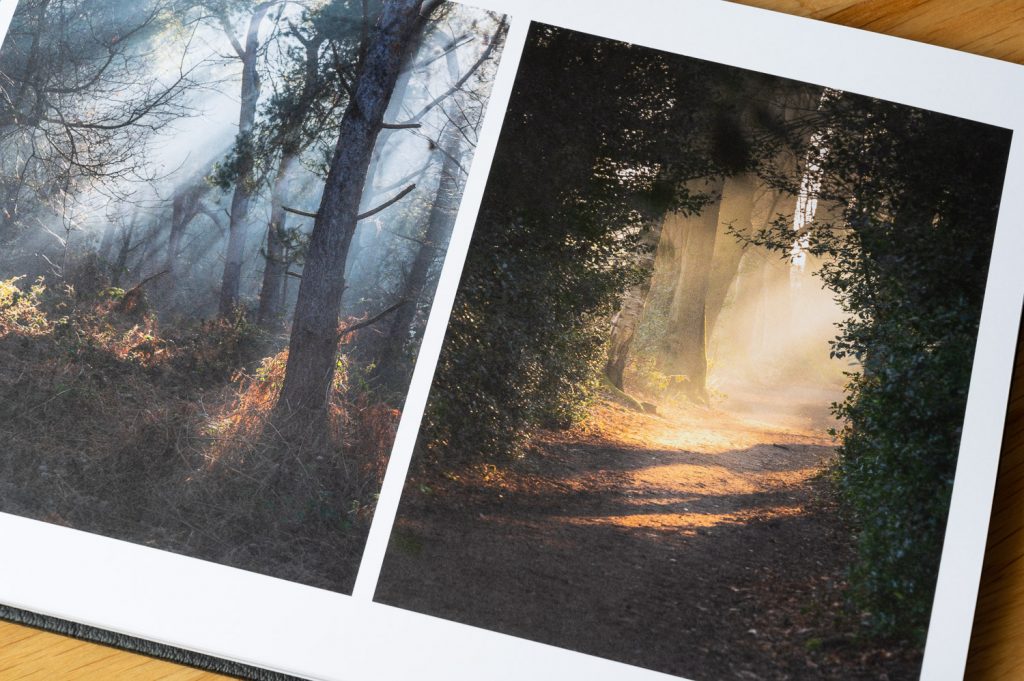 Printing and Shipping
Remarkably my handmade book had been printed within 48 hours of placing my order! Thats a lot quicker than I had expected and Saal were well on target to meet their estimated delivery date. My book was printed and despatched from Germany. I expected my shipment to be held up at customs. After all I had read horror stories about delays from Europe following Brexit. Luckily there were no delays and the tracking number provided reported the book to be at the final delivery depot within the UK. I began to get excited and even thought my book may arrive early. No such luck! The book remained in the final delivery depot for 5 days before finally being despatched for delivery to my door. Having said that the Saal photo book did arrive on the delivery date acknowledged on my order, so I can't complain.
Just as you would expect with a premium product, protective packaging ensured a damage free delivery with the book being well packed and wrapped.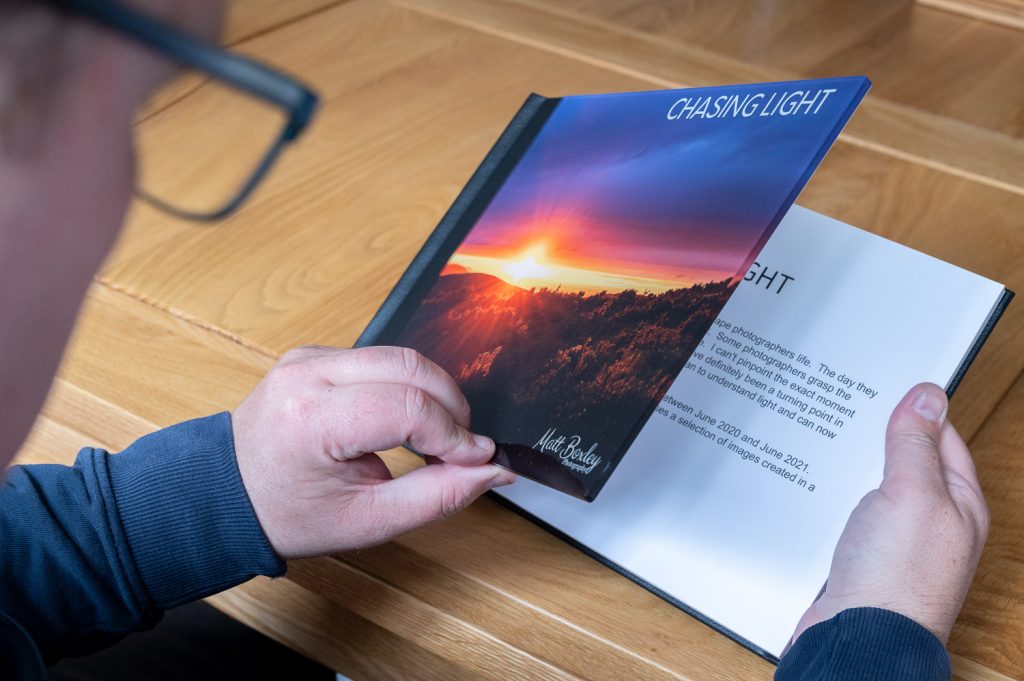 The WOW Factor!
Full of excitement I removed my book from within the packaging to reveal the stunning beauty of the acrylic cover. I had never seen a book with an acrylic cover before so I was a little unsure of what to expect. I love how the cover is different and gives the book a special feel.
Saal photo Book Quality
Saal's professional line phonebook is very impressive. The premium price tag is equally matched by the handcrafted quality of the books materials and workmanship. The print quality is near perfect with only a couple of minor imperfections that most readers would not even notice. It's nothing to worry about and definitely not something I feel I need to complain about. I am probably just being a little bit picky. My upgraded paper choice has helped to achieve the elegant and painterly way images are displayed.
The photo books pages have a similar thickness to card. As you turn the books pages it is easy to think you are turning more than one page at a time. However you soon realise it's just the thickness of the premium pages and you are in fact only turning a single page. I don't expect the pages to rip however as they are thick I am unsure if they may curl over time.
I have not had the book long enough to comment on its durability. The book looks to be made of premium and good quality materials. I believe the book will last a number of years as long as it is not ill handled or mistreated. The only concern I have is with the acrylic cover and how easily it may scratch over time.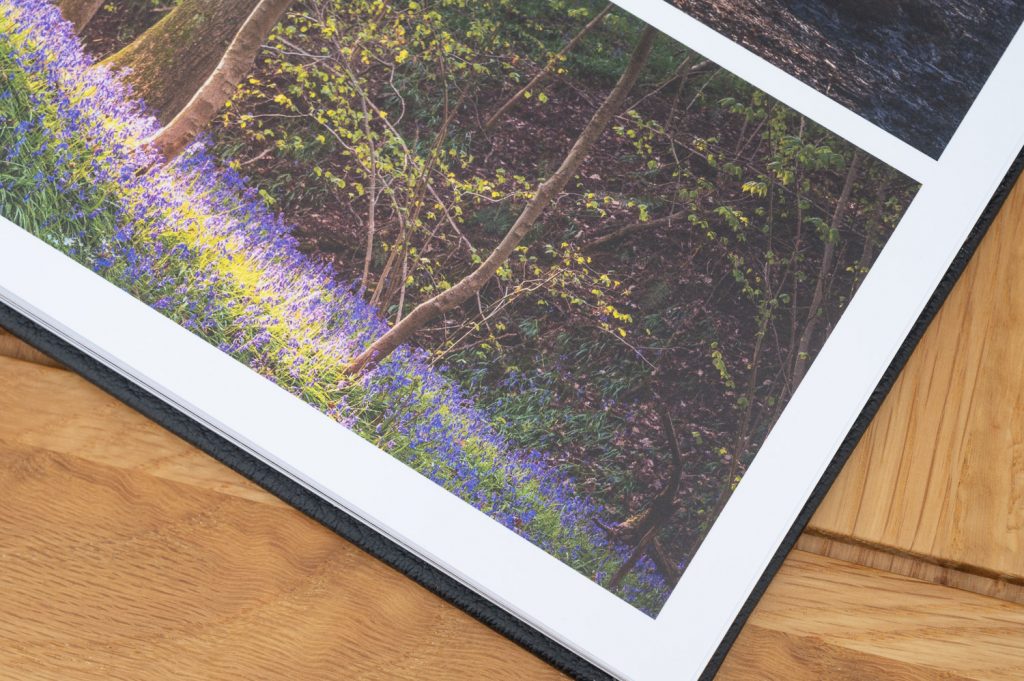 Final Thoughts
Saal's professional line photo book by far exceeded my expectations. The high end premium quality photo book is perfect to display images from a special occasion or to present images as part of a professional portfolio. The professional line book however does come with a premium price tag.
My book is Saal Digitals 30cm x 21cm professional line photo book with 44 pages of upgraded high end matte paper, acrylic front cover and black leather rear cover. The full price of the book is £99.34 plus £7.99 postage.
Like most people I am always looking for a good deal. Saal do regularly have attractive offers so if you are considering creating a Saal photo book be sure to check out Saal's website for current deals. It's also worth joining their mailing list to have offers sent directly to your email inbox.
I have no hesitation in recommending Saal Digital and expect I will use them myself again in the future.
https://www.saal-digital.co.uk
Images featured within my book and this review are available to order as prints. Check out my print shop or contact me to discuss your requirements.
Subscribe To My Blog
Make sure you don't miss out on my next adventure by signing up to the blog. All you have to do is enter your email address below and I'll send you a short email letting you know when a new post live. It's free and you can unsubscribe at any time.
Don't forget you can also connect with me on Instagram and Facebook where I will be sharing a selection of images from my recent adventures.
Until next time…
Ta-ra a bit